The Costa Blanca is blessed with a warm temperate climate providing plenty of sunshine and good year-round temperatures, making it a favourite destination for holiday-makers and international residents.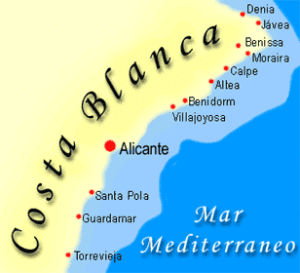 Many nationalities now live permanently on the Costa Blanca. In particular there are large communities of English, Germans and of course Spanish, who primarily use the regional dialect, Valenciano (a form of Catalan) but also speak Castilian Spanish.
Benidorm offers many activities apart from swimming, beach games and sunbathing  including  some theme parks just outside the town: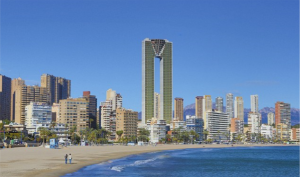 Benidorm also has a large choice of bars, restaurants and entertainment.
Other coastal resorts such as Javea, Denia, Calpe, Moraira, Altea, Villajoyosa, El Campello etc also have good amenities for tourists.
Other days out can include trips inland to the old mountain fortress of Guadalest (See below) the natural water bathing at Fuentes del Algar and the tropical gardens of Huerta del Cura in Elche. The palm tree growing centre of Spain since Moorish times. There are also many walks inland, primarily on hilly or mountainous terrain in beautiful settings.
El Castell de Guadalest
Considering this is not far from Benidorm, it couldnt be more of a contrast. The location is stunning, so is the scenery and every where you look is a photo opportunity. A must see location.
Markets
Markets are held in most local towns at least one day per week and offer a wide range of products including fruit and vegetables, clothes, household items etc.
A trip to Valencia is also definitely worth considering if you are staying for any length of time. Valencia is Spain's third largest city, with attractive architecture and cultural activities. There is a large choice of shops, bars and restaurants. The Valencia region is also very well-known for its production of citrus fruits and of course Paella. The city is easy to reach from most areas and is serviced by the AP7 coastal motorway.
Locally, one can get about by using the inexpensive "Tram", the Alicante to Denia rail link. It provides scenic views on its winding journey through mountainous areas and stops at many key towns along the way.